Chef David Vaughan's Veggie Chili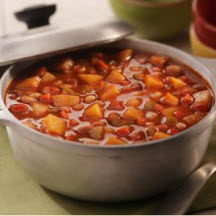 Chef David Vaughn's delicious vegetarian chili is sure to satisfy the heartiest appetites.
Recipe Ingredients:
3 tablespoons butter
2 cups diced carrots
2 large onions
1/2 stalk celery, medium dice
4 large Idaho® potatoes, medium dice
2 tablespoons ground cumin
2 tablespoons chili powder
1/2 teaspoon cayenne pepper
1 (6-ounce) can tomato paste
2 green bell peppers, medium dice
2 red bell peppers, medium dice
2 orange bell peppers, medium dice
1 (28-ounce) can diced tomatoes
1 quart water
1 quart V8 tomato juice
1 quart tomato sauce (28 ounces)
1 (16-ounce) can white beans, drained and rinsed
1 (16-ounce) can pinto beans, drained and rinsed
Cooking Directions:
Mix butter, diced carrots, diced onions, diced celery and diced potatoes; sauté for 8 to 12 minutes.
Add cumin, chili powder and cayenne pepper; continue to cook 3 to 5 minutes to bring out the spice.
Add tomato paste, diced bell peppers and diced tomatoes; simmer about 8 minutes, stirring often.
Mix water, V8 juice, tomato sauce and beans in a large cooking pot; rinse tomato sauce can out with water and dump into the pot.
Mix in sautéed vegetables and cook for 45 minutes to an hour until vegetables are done.
Add salt and pepper to taste; thicken with starch if desired.
Makes 10 servings.
Tip: For thicker chili, dissolve about 2 to 3 tablespoons cornstarch with a small amount of water in a cup and add to the chili at the end of cooking time, and continue cooking just until thickened.
Recipe and photograph courtesy of the Idaho Potato Commission.