Chili with Crispy Paprika Croutons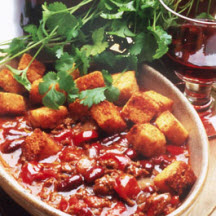 Recipe courtesy of the Flour Advisory Bureau.
Recipe Ingredients:
2 tablespoons vegetable oil
1 large onion
1 red bell pepper, chopped
1 pound ground beef
1 tablespoon all-purpose flour
1 (14-ounce) can chopped tomatoes
1 1/4 cups beef stock or broth
1 tablespoon tomato purée
1 tablespoon mild chili powder
1 tablespoon dark brown sugar, packed
1 (15-ounce) can red kidney beans, drained and rinsed
4 tablespoon vegetable oil
1/2 teaspoon paprika
1/4 teaspoon chili powder
2 cloves garlic, crushed
3 slices bread, (white, brown, or wholegrain) cut into cubes
Chopped fresh coriander for garnish (or cilantro)
Sour cream (optional)
Cooking Directions:
Soften onion and red pepper in the oil; add ground beef and brown quickly.
Stir in flour and then add tomatoes, stock, tomato purée, chili powder, sugar and kidney beans. Bring to the boil and then simmer gently for 1 hour.
Season with black pepper.
For the Croutons: Heat the oil in a large fry pan and add the paprika, chili powder and garlic Add the bread cubes and toss until well coated. Place on a baking tray in a hot oven until golden.
Serve chili topped with croutons, chopped coriander and sour cream.
Makes 4 servings.
Recipe and photograph courtesy of the Flour Advisory Bureau.