Chipotle Olive Turkey Chili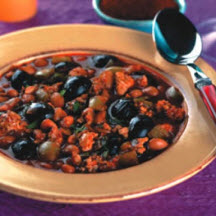 Recipe courtesy of California Ripe Olives.
Recipe Ingredients:
1 tablespoon canola oil
1 pound ground turkey
1 (9-ounce) yellow onion, peeled and chopped
1 1/2 cups (6-ounce) diced green bell peppers (1/2-inch)
1 tablespoon minced garlic
2 1/2 cups low sodium chicken broth
2 1/2 cups cooked or canned pinto beans, drained and rinsed
1 cup California Ripe Olives, halved
1 cup amber beer
3 tablespoons tomato paste
4 teaspoons chipotle chile powder
1 teaspoon ground cumin
1/2 teaspoon kosher salt
1/4 teaspoon ground black pepper
1/3 cup chopped parsley
Cooking Directions:
Heat oil in a large saucepan over medium-high heat. Add ground turkey and onions and cook for 5 minutes, stirring occasionally and breaking up meat until crumbled and lightly browned.
Mix in green peppers and garlic and continue cooking for another 2 to 3 minutes.
Stir in chicken broth, beans, California Ripe Olives, beer, tomato paste, chile powder, cumin, salt and black pepper. Bring to a boil, cover and simmer for 10 minutes.
Uncover, stir in parsley and cook for 5 more minutes. Serve.
Makes 6 servings.
Recipe and photograph courtesy of California Ripe Olives.