Chunky Vegetarian Chili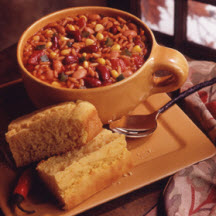 Rice rounds out the robust combination of vegetables and spice in this wholesome offering. Fill your bowl to help meet Food Pyramid daily goals.
Recipe Ingredients:
1 medium green bell pepper, seeded and chopped
1 medium onion, chopped
3 cloves garlic, minced
1 tablespoon vegetable oil
2 (14.5-ounce) cans Mexican-style tomatoes, undrained
1 (15-ounce) can pinto beans, drained and rinsed
1 (15-ounce) can kidney beans, drained and rinsed
1 (11-ounce) can whole-kernel corn, drained and rinsed
2 1/2 cups water
1 cup uncooked brown rice
2 tablespoons chili powder
1 1/2 teaspoons ground cumin
Cooking Directions:
Sauté green pepper, onion and garlic in oil in 3-quart saucepan or Dutch oven over medium-high heat 5 minutes or until tender.
Add tomatoes, kidney beans, pinto beans, corn, water, rice, chili powder and cumin; stir well. bring to a boil. Reduce heat; cover and simmer 30 minutes , stirring occasionally. to serve, top with sour cream; if desired.
Makes 8 servings.
Recipe and photograph provided courtesy of USA Rice Federation.