Classic Gazpacho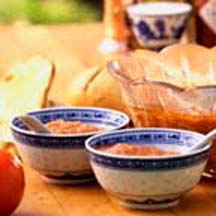 Nothing is more refreshing than a bowl of cool, savory gazpacho in the summertime.
Recipe Ingredients:
1 cup stale French bread cubed
3 cups tomatoes
2/3 cup green pepper, diced
2/3 cucumber, peeled, seeded and diced
1/3 cup red onion, diced
2 garlic cloves, minced
1 1/2 cup tomato juice
2 tablespoons olive oil
2 tablespoons red wine vinegar
Hot pepper sauce to taste
Salt and ground black pepper to taste
Cooking Directions:
In a cup add stale French bread and cover with water, let stand for about 5 minutes and then squeeze out water and add to a food processor.
To the food processor add tomatoes, green peppers, cucumbers, red onion, and garlic.
Processes until mixture becomes a coarse purée.
Pour mixture into a bowl and stir in tomato juice, olive oil, red wine vinegar, hot pepper sauce, and salt and pepper to taste.
Mix and serve.
Makes 6 to 8 servings.
Recipe provided courtesy of HolidayKitchen.tv. Photograph property of CooksRecipes.com.