Cowboy Beef and Black Bean Chili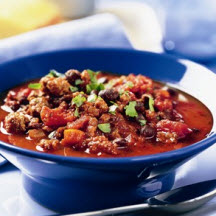 This chuckwagon specialty will satisfy the heartiest cowboy and cowgirl appetites—plus, it's an excellent source of fiber, protein, niacin, vitamin B6, vitamin B12, iron, selenium and zinc.
Recipe Ingredients:
2 pounds 95% lean ground beef
1 tablespoon vegetable oil
1 1/2 cups chopped onions
2 tablespoons minced garlic
2 medium yellow bell peppers, chopped
1 large jalapeño pepper, seeded, finely chopped
1/4 cup chili powder
1 tablespoon ground cumin
1 teaspoon dried oregano leaves, crushed
1 teaspoon dried thyme leaves, crushed
1/8 teaspoon ground red pepper
1 (28-ounce) can crushed canned tomatoes, undrained
1 (14.5-ounce) can chili-seasoned or zesty-style diced tomatoes, undrained
1 (14-ounce) can ready-to-serve beef broth
12 ounces dark beer
1/3 cup tomato paste
1 tablespoon honey
2 (15-ounce) cans black beans, drained and rinsed
Chopped fresh cilantro (optional)
Cooking Directions:
Brown ground beef in stockpot over medium heat 8 to10 minutes or until beef is no longer pink, breaking up into 3/4-inch crumbles. Remove from stockpot with slotted spoon. Set aside. Pour off drippings.
Heat oil in same stockpot over medium heat until hot. Add onions and garlic; cook and stir 3 to 5 minutes or until onions are tender. Add bell peppers and jalapeño; cook and stir 4 to 5 minutes or until peppers are tender.
Return cooked beef crumbles to stockpot. Add chili powder, cumin, oregano, thyme and red pepper; cook and stir for 2 to 3 minutes. Stir in crushed tomatoes, diced tomatoes, broth, beer, tomato paste and honey; bring to a boil. Reduce heat; cover and simmer 45 minutes. Uncover stockpot; continue simmering 30 minutes or until thickened to desired consistency, stirring occasionally. Stir in beans; cook 5 to 10 minutes or until beans are heated through. Season with salt and black pepper, as desired. Garnish with cilantro, if desired.
Makes 8 servings.
Note: Cooking times are for fresh or thoroughly thawed ground beef. Ground beef should be cooked to an internal temperature of 160°F (70°C). Color is not an indicator of ground beef doneness.
Nutritional Information Per Serving (1/8 of recipe): 364 calories; 1 g fat (3 g saturated fat; 4 g monounsaturated fat); 76 mg cholesterol; 1131 mg sodium; 39 g carbohydrate; 10.6 g fiber; 34 g protein; 8.1 mg niacin; 0.8 mg vitamin B6; 2.2 mcg vitamin B12; 7.3 mg iron; 19.3 mcg selenium; 6.5 mg zinc.
Recipe and photograph provided courtesy of The Beef Checkoff.