Green Chile Stew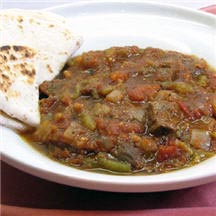 It was my mom who brought home the recipe for this Mexican-style green chile and tomato stew after a friend and co-worker had shared the dish at one of their monthly potlucks. The dish was an instant family hit and remains so today. Pork, or even ground beef, can also be used to make this simple, yet intensely flavorful stew. The canned roasted chiles (Anaheim chiles) are a mild variety of chiles. However, my dad preferred using fresh Anaheim chiles and prepared them by roasting over an open flame on the gas stove until the skin was completely charred. Running cool water over them, the skin peels off easily. Split the peeled, roasted chiles, remove the seeds—or keep them if you like the heat—and membrane, chop and use. Serve this stew with warm flour tortillas and a simple, tossed green salad for a complete meal.
Recipe Ingredients:
2 pounds lean beef or pork*, cut into 1-inch cubes
Kosher or sea salt and freshly ground pepper to taste
2 tablespoons vegetable oil
1 large or 2 medium Spanish or yellow onion, chopped
6 to 8 cloves garlic, finely minced
1 (28-ounce) can tomatoes, roughly cut-up
2 (7-ounce each) cans roasted whole mild green chiles, cut into large chunks
1 teaspoon kosher or sea salt, or to taste
1/2 teaspoon dried oregano leaves
Freshly ground black pepper to taste
Flour tortillas, warmed for accompaniment (optional)
Sour cream for accompaniment (optional)
Shredded cheddar or Monterey Jack cheese for accompaniment (optional)
Cooking Directions:
Season cubed beef or pork with salt and pepper as desired; set aside
Heat oil in a Dutch oven or large, heavy pot over medium-high heat, when hot, add seasoned meat and brown on all sides (don't overcrowd, brown the meat in small batches, if necessary); add the onion and garlic and cook, stirring occasionally, until onion has softened.
Add remaining ingredients, bring to a boil and reduce heat. Cover and simmer for 2 to 3 hours, stirring occasionally, until meat is fork tender and the stew has thickened.
Serve accompanied with warm flour tortillas. If desired, sprinkle with cheese and spoon a dollop of sour cream atop individual servings.
Makes 6 servings.
*Any lean cut of meat can be used, even chicken. Ground beef makes a delicious quick version of this stew.
Recipe and photograph by Hope Cantil; copyright © 1999; property of CooksRecipes.com. See Terms of Use.