Minestrone Verde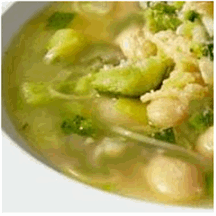 A deliciously light and hearty Italian-style vegetarian soup loaded with shell pasta, beans, onion, zucchini, asparagus and fresh herbs.
Recipe Ingredients:
6 cups reduced-sodium vegetable broth
1 large onion, sliced
1/2 cup small or medium pasta shells
1 (15-ounce) can kidney beans, drained and rinsed
1 (15-ounce) can Great Northern beans, drained and rinsed
2 cups sliced zucchini 1 1/2 cups small broccoli florets
1 1/2 cups cut asparagus (1-inch pieces)
3 tablespoons chopped fresh flat-leaf parsley
2 tablespoons chopped fresh basil or 2 teaspoons dried basil leaves
1 tablespoon chopped fresh rosemary or 1 teaspoon dried rosemary leaves
2 cloves garlic, minced
Salt and pepper, to taste
Shredded Parmesan cheese for garnish
Cooking Directions:
Heat vegetable broth and onion to boiling in large saucepan. Add pasta, reduce heat and simmer, covered, 5 minutes.
Add beans and vegetables to saucepan; simmer, covered, until broccoli is tender, 6 to 8 minutes. Stir in herbs and garlic; season to taste with salt and pepper.
Serve in bowls; sprinkle lightly with cheese.
Makes 8 servings (about 1 1/2 cups each).
Tip: Mediterranean Bean Ragout can be prepared 1 to 2 days in advance; refrigerate, covered.
Nutritional Information Per Serving (1/8 of recipe): Calories 201; Fat 1g; % Calories from Fat 4; Calcium 76mg; Carbohydrate 39g; Folate 141mcg; Sodium 204mg; Protein 11g; Dietary Fiber 9g; Cholesterol 0mg.
Recipe provided courtesy of The Bean Education & Awareness Network.