Mushroom Super Bowl Chili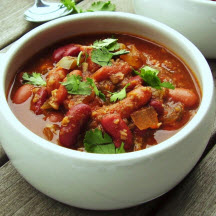 Two kinds of mushrooms make this no-meat chili a hearty crowd pleaser. Serve with warmed tortillas for a meal.
Recipe Ingredients:
2 tablespoons vegetable oil
1 cup chopped onion
1 tablespoon minced garlic
2 tablespoons chili powder
1 teaspoon ground cumin
7 1/2 cups sliced fresh white mushrooms
2 1/2 cups sliced fresh shiitake mushrooms
1 (14.5-ounce) can stewed tomatoes
1 (19-ounce) can white kidney beans, rinsed and drained
1/2 cup sliced ripe olives
1/2 cup water
Cooking Directions:
In a large saucepan heat oil; add onion and garlic. Cook, stirring frequently, until onion is tender, about 5 minutes. Stir in chili powder and cumin; cook about 30 seconds. Add white and shiitake mushrooms; cook stirring occasionally, until mushrooms are tender, 6 to 8 minutes. Add stewed tomatoes, beans, olives and water. Simmer about 10 minutes uncovered to blend flavors.
Serve with tortillas; garnish with shredded lettuce, diced fresh tomatoes and shredded cheddar cheese if desired.
Makes 4 servings.
Recipe and photograph courtesy of the Mushroom Council.