Patrick's Irish Lamb Stew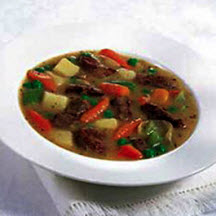 Recipe courtesy of the Meat and Livestock Australia.
Recipe Ingredients:
2 pounds lamb stew meat
Seasoned Flour Blend:
1 cup all-purpose flour
Pinch cayenne pepper
1/2 tablespoon paprika
1/2 teaspoon ground black pepper
2 tablespoons olive oil
1 (48-ounce) can (8 cups) chicken broth
3 cups carrots, cut 1-inch chunks
2 medium onions, cut 1-inch chunks
1 cup celery, chopped
1 teaspoon rosemary, chopped
1 teaspoon dried thyme, chopped
1 tablespoon dried parsley flakes
3 pounds potatoes, cut 1-inch chunks
1 cup water
2 tablespoons all-purpose flour
2 cups frozen peas
Cooking Directions:
Combine the seasoned flour ingredients in a medium bowl. Dust lamb. Heat olive oil in skillet. Brown meat over high heat for 8 to 10 minutes.
Remove meat, discard fat and place meat in large pot. Add chicken broth, carrots, onions, celery, rosemary, thyme and parsley. Cover, bring to boil, reduce heat and simmer for 1/2 hour.
Add potatoes, and simmer for 30 more minutes.
Remove lid. Add blended flour and water. Add peas. Simmer uncovered for another 15 minutes. Season to taste and serve.
Makes 6 servings.
Recipe and photograph courtesy of the Meat and Livestock Australia.