Pork, Sweet Potato and Black Bean Stew with Fresh Greens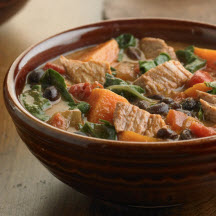 Peanut butter is the secret ingredient that gives this dish incredible flavor that can't be beat. This recipe, created by Camilla Saulsbury, was the 2011 Pork Crock-Star winner for Chili Soup and Stew Dish.
Recipe Ingredients:
3 pounds boneless pork shoulder, fat trimmed, cut into 3-inch pieces
3 cups sweet potato, peeled and cut into 1-inch pieces
1 1/2 cups onions, chopped
2 (14.5-ounce) cans fire-roasted diced tomatoes with green Chiles chip, undrained
1 (15-ounce) can black beans, rinsed and drained
2 tablespoons chile powder
2 1/4 teaspoons cumin
1/4 cup creamy peanut butter
3 cups Swiss chard, coarsely chopped and packed (from 1 small bunch)
Cooking Directions:
Place pork, sweet potatoes, onions, tomatoes, black beans, chili powder, and cumin in electric slow cooker. Cover with lid, and cook on low-heat setting for 7 1/2 hours.
Remove pork from slow cooker, and coarsely chop.
Add peanut butter to liquid in slow cooker, stirring to combine well. Stir in pork and season with salt and pepper to taste.
Add the Swiss chard to slow cooker. Cook 5 to 6 minutes longer until chard is tender but still bright green.
Makes 6 servings.
Recipe and photograph provided courtesy of National Pork Board.