Roasted Fennel Soup with Walnuts and Stilton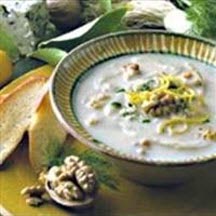 This soup is the winner of the Culinary Institute of America's walnut contest in 2000. Roasted fennel provides a delicate fragrance to this creamy, yet healthy, soup. As a garnish option, top with 1 1/2 teaspoon crumbled Stilton cheese and lemon zest.
Recipe Ingredients:
1 large bulb fennel, cut into quarters
2 tablespoons canola oil
Kosher salt and freshly ground black pepper to taste
1 leek, whites only, sliced
1 cup russet potatoes, peeled and cubed
2 cups chicken stock
2 tablespoons dry sherry
1/2 cup half and half
1/2 cup toasted California walnuts, coarsely chopped
1/4 cup Stilton cheese, crumbled
Lemon, zest only, finely chopped
1 tablespoon fresh chives, minced
Cooking Directions:
Preheat oven to 400ºF (205ºC). Toss fennel with 1 tablespoon oil. Sprinkle with kosher salt and freshly ground black pepper. Roast fennel on baking pan until tender and golden brown, about 15 to 20 minutes.
While fennel is roasting, heat remaining oil in a heavy, medium-sized pot over a medium-low flame. Add leeks, stirring to coat with oil. Cover pot and cook the leeks for 5 minutes, until they are translucent. Add potatoes and stock. Bring to a boil. Reduce heat and simmer until the potatoes are fully cooked, about 20 minutes. Purée mixture with a hand-held blender or in food processor until smooth.
Allow fennel to cool. When easy to handle, slice fennel into small strips about 1/2 inch. Add to potato mixture, along with dry sherry and the half and half to reach the desired texture of the soup. Return to a simmer, and stir in walnut pieces. Season to taste with salt and pepper. Toss Stilton cheese with lemon zest.
To serve, ladle soup into warm bowls. Top with a tablespoon of Stilton mixture. Sprinkle with minced chives and extra walnuts if desired.
Makes 4 servings.
Nutritional Information Per Serving (1/4 of recipe): 300 calories, 7g protein, 19g carbohydrate, 4g fiber, 489mg sodium, 22mg cholesterol, 22g total fat, 5g saturated fat.
Recipe and photograph provided courtesy of Walnut Marketing Board.