Seafood Gumbo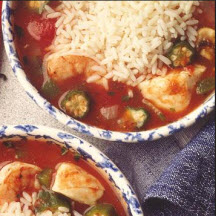 A Southern classic, the one ingredient that makes a stew, 'gumbo', is okra—without it, it ain't gumbo.
Recipe Ingredients:
1 pound large shrimp
2 quarts water
1 cup vegetable oil
3/4 cup all-purpose flour
1 large onion, chopped
1 medium green bell pepper, seeded and chopped
2 celery ribs, chopped
4 cloves garlic, finely chopped
2 1/2 cups sliced fresh okra
1 bay leaf
1 teaspoon salt
3/4 teaspoon dried thyme
1/2 teaspoon ground black pepper
1/2 teaspoon cayenne pepper
1/2 teaspoon crushed dried oregano
1 1/4 pounds cod, cut into large chunks
Cooking Directions:
Peel and devein shrimp. Refrigerate shrimp until needed. Rinse shells and place in a saucepan with water. Bring to a boil and simmer for 10 minutes. Strain stock and discard shells; set aside.
Heat a large, heavy-bottomed pot over medium-high heat. Add oil and heat until hot and almost smoking. Gradually stir in flour, being careful not to burn. Stir constantly, adjusting heat as needed, and cook until dark golden brown.
Add onion, bell pepper and celery and garlic. Cook until slightly softened, about 4 minutes.
Pour in reserved fish stock and bring to a boil.
Add okra, bay leaf, salt, thyme, pepper, cayenne pepper and oregano. Return to a boil, reduce heat and simmer 15 minutes.
Add shrimp and cod and cook until shrimp is pink and fish is thoroughly cooked, about 7 more minutes.
Serve warm over rice, if desired.
Makes 8 servings.