Smoky Gazpacho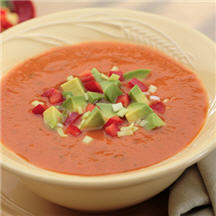 Fresh and vibrant flavors make this chilled vegetable soup a refreshing and colorful addition to your menu plans. The chipotle chile in adobo sauce adds luscious smoky flavor to this classic recipe.
Recipe Ingredients:
1 1/4 cups hot water
2 tablespoons MAGGI Granulated Beef Ribs Flavor Bouillon*
1 cucumber, peeled, seeded and coarsely chopped
6 Roma tomatoes, quartered
3/4 cup roasted red peppers, drained
1/4 cup packed cilantro
1/4 cup olive oil
1 canned chipotle chile, seeded plus 1 teaspoon adobo sauce
2 tablespoons lime juice
2 large green onions, finely chopped
1/2 avocado, pitted, peeled and finely chopped
1/2 cup finely chopped tomatoes
1/4 cup finely chopped red bell pepper
Cooking Directions:
Combine water and bouillon in small bowl. Stir until bouillon is dissolved. Place about half bouillon mixture and cucumber in blender; cover. Blend until smooth. Pour into large bowl. Place remaining bouillon mixture, tomatoes, red peppers, cilantro, oil, chile, adobo sauce and lime juice in blender; cover. Blend until smooth. Pour into large bowl with cucumber mixture; stir to combine. Cover; refrigerate for at least 2 hours and up to 6 hours before serving.
Combine green onions, avocado, tomatoes and bell pepper in medium bowl. Divide soup among bowls; top with vegetable mixture.
Makes 4 servings.
*Or substitute with chicken or vegetable bouillon.
Recipe and photograph are the property of Nestlé® and Meals.com, used with permission.