Spicy Salmon Tortilla Soup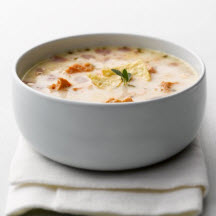 Super quick and easy salmon tortilla soup, the hardest part of this recipe is opening the cans!
Recipe Ingredients:
1 (12-ounce) can evaporated milk*
1 (14.75-ounce) can fat-free chicken broth
1 (14.5-ounce) can diced tomatoes and green chiles
1 (15-ounce) can black beans, drained and rinsed
1 (11-ounce) can mexicorn, drained
2 teaspoons lemon juice
1/4 teaspoon natural hickory liquid smoke (optional)
1 (14.75-ounce) can Alaska salmon
4 cups baked tortilla chips
Cooking Directions:
Drain and chunk Alaska salmon, removing skin and bones.
In large saucepan, add all ingredients except salmon and tortilla chips. Bring to boil over medium heat, stirring occasionally. Reduce heat to simmer and cook 5 minutes.
Stir salmon into soup, heat through.
Ladle into soup bowls. Top each bowl with 1/2 cup tortilla chips.
Makes 4 servings.
*Or, for a fresher taste, use 1 1/2 cups heavy cream or half-and-half (light cream).
Recipe and photograph courtesy of: Alaska Seafood Marketing Institute.