Tortilla Soup with Queso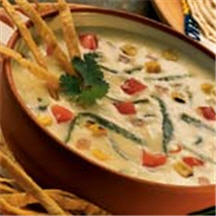 An extraordinary version of creamy, cheese laden tortilla soup with strips of nopalitos (cactus pads).
Recipe Ingredients:
4 ounces butter
12 ounces kernel corn, roasted
2 poblano peppers, diced
3 green bell peppers, diced
2 onions, diced
3 tablespoons fresh garlic, minced
1 stalk fresh celery, chopped
4 nopalitos (cactus pads) cut in strips
1 zucchini, diced
4 ounces tomato paste
2 to 3 fresh tomatoes, peeled, diced
1 bunch cilantro, chopped
1 teaspoon oregano (powder)
1 1/2 teaspoons cumin seed (toasted*)
3 teaspoons chili powder (or Ancho paste)
1 pinch cayenne pepper
1/2 gallon beef consommé
1/2 gallon chicken broth
Salt and ground black pepper to taste
Julienne or fried tortilla chips
Wisconsin Queso Quesadilla cheese
Cooking Directions:
Preheat soup kettle with 4 ounces of butter; add corn; sauté until golden.
Add poblanos, bell peppers, onion, and garlic, sauté for 2 to 3 minutes.
Add celery, nopalitos, and zucchini; sauté for another 2 minutes.
Add tomato paste, diced tomatoes, and all remaining ingredients.
Simmer for 1 hour and 30 minutes.
Garnish with julienne or fried tortilla chips and grated Queso Quesadilla cheese.
Makes 16 servings.
*Dry roast cumin seed in heavy skillet over medium heat until toasted and aromatic.
Variation: Wisconsin Asadero may be used in place of Queso Quesadilla
Recipe and photograph provided courtesy of Wisconsin Milk Marketing Board, Inc.