Turkey Soup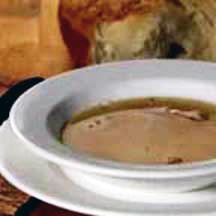 A great recipe for using up holiday turkey leftovers, this version uses the turkey carcass which adds extra flavor you can't find in a can.
Recipe Ingredients:
1 onion, chopped
1 carrot, chopped
1 celery stalk, chopped
2 tablespoons unsalted butter
1 tablespoon extra virgin olive oil
1/4 cup all-purpose flour
4 cups water
4 cups chicken stock
1/2 cup dry white wine
Turkey carcass
2 sprigs parsley
1/2 tablespoon thyme
1 bay leaf
Peppercorns
Cooking Directions:
Pull apart any leftover turkey meat with your hands, really working the bones to find the remaining secret sweet meat.
Chop an onion, carrots and celery. Plus another carrot - in a fine dice - for garnishing the nearly finished soup later on.
Then cook the onion, carrot and celery in olive oil over moderately high heat, stirring for 7 to 10 minutes or until vegetables are golden.
Add dry white wine and bring to a simmer.
Add the turkey carcass, chicken stock, water, bay leaf and peppercorns.
Make a bouquet garnish by tying fresh parsley and thyme in a little bundle so that you can remove it easily later on.
Bring everything to a boil.
Then lower to a simmer and cook for about and hour.
Remove large pieces of carcass and strain the soup back into a skillet.
Heat over a medium heat.
Add the turkey and diced carrots and season with salt and pepper.
Simmer the soup and skim any froth or fat as it rises to the surface.
Makes 8 servings.
Recipe provided courtesy of HolidayKitchen.tv. Photograph property of CooksRecipes.com.