Vegetarian Sweet Potato Chili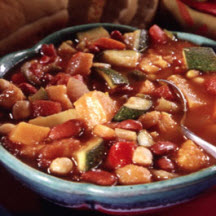 This delicious veggie chili is easily assembled from pot to table, a great dish to serve a crowd.
Recipe Ingredients:
1 cup chopped onion
1/4 cup coarsely chopped green bell pepper
1/4 cup coarsely chopped red bell pepper
1 cup chopped zucchini
1 cup chopped, peeled carrot
2 cloves garlic, minced
2 tablespoons light olive oil
1 teaspoon ground cumin
1/2 teaspoon salt
1/2 teaspoon ground black pepper
1 cup water
1 (28-ounce) can diced tomatoes
1 cup mild or medium salsa
3 cups peeled, cubed sweet potato
1 (28-ounce) can red kidney beans
1 (15-ounce) can black-eyed peas or garbanzo beans
1 cup corn kernels
Cooking Directions:
In a large soup pot, sauté onion, peppers, zucchini, carrot and garlic in olive oil about 5 minutes or until tender. Stir in cumin, salt, pepper, water, tomatoes, salsa and sweet potatoes. Simmer 20 minutes, stirring often.
Add beans, kidney beans, black-eyed peas, and corn. Cook another 20 minutes over low heat. Season to taste.
Makes 6 servings.
Nutritional Information Per Serving (1/6 of recipe): Calories: 424; Calories From Fat: 12; Total Fat: 6g; Total Carbs: 78g; Fiber: 20g; Protein: 17g.
Recipe and photograph courtesy of the North Carolina Sweet Potato Commission.