Vidalia and Pear Honey of a Soup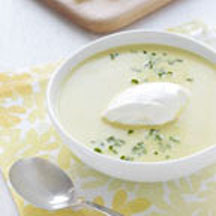 The winning recipe in the Vidalia Onion Committee's 'Sweet Times with Vidalias' recipe contest, submitted by Joan Churchill of New Hampshire.
The curry and chicken broth perfectly balance out the sweetness of the Vidalias and pear. Serve soup warm or cold.
Recipe Ingredients:
2 tablespoons butter
1 tablespoon vegetable oil
4 medium Vidalia onions, peeled and chopped
3 sweet ripe pears, peeled, cored and chopped
1 tablespoon curry powder
1/2 teaspoon salt
1 1/2 quarts chicken broth
1 cup cream
1/4 cup honey
1 cup plain yogurt
2 tablespoons minced chives
Cooking Directions:
In a 2-quart, heavy-bottomed saucepan, melt the butter with the oil over medium heat. Add the onions and pears, stirring to soften, two to three minutes. Sprinkle in the curry powder and salt. Stir for another minute until the curry is fragrant.
Stir in the chicken broth and simmer for 10 minutes, stirring occasionally. Remove from heat and allow to cool slightly before putting in a processor or blender to purée until smooth. (Or you can use a stick blender and skip the cooling step.)
Return purée to the pan and add the cream and honey; heat through. Whisk in the yogurt and half the chives. Serve immediately, sprinkled with the remaining chives. Or chill the soup thoroughly and serve in chilled bowls, sprinkling with the chives.
Makes 4 to 6 servings.
Recipe and photograph provided courtesy of www.VidaliaOnion.org; through ARA Content.