Walnut "Cream" of Mushroom Soup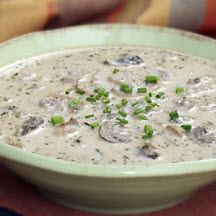 Walnuts puréed with nonfat milk give this soup a thick, creamy consistency. Serve with a simple salad for a healthful, light meal.
Recipe Ingredients:
1 tablespoon olive oil
1 pound fresh mushrooms, sliced (button, crimini, shiitake or whatever your preferred mushrooms are)
2/3 cup finely chopped shallots
1 (14-ounce) can regular strength chicken broth
1 1/2 teaspoons chopped fresh thyme or 1/2 teaspoon dried
1 cup California walnuts
1/2 cup non-fat milk or plain soymilk
Cooking Directions:
Heat oil in a 3 to 4-quart size saucepan over medium-high heat. Add mushrooms and shallots. Cook 5 minutes or until softened, stirring several times.
Add broth and herbs. Bring to a boil. Reduce heat, cover and simmer 5 minutes
Place walnuts and milk in food processor or blender. Whirl until walnuts are completely blended with milk and nearly smooth.
Stir into mushroom mixture. Simmer over medium-low heat stirring frequently until slightly thickened, about 5 minutes.
Serve with freshly cracked black pepper.
Makes 4 servings.
Recipe and photograph courtesy of Walnut Marketing Board.