Beet Soups
CooksRecipes has quality, kitchen-tested recipes for beet soups, including borscht, that you can count on for successful deliciousness.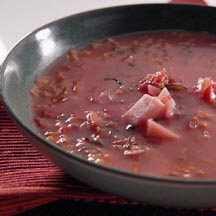 Healthy Borscht
When made with meat, this soup is a hearty main dish that needs only a salad, bread and a glass of milk to complete the meal.
Borscht
This hearty recipe for borscht, a beet-based soup, features beef short ribs, beans, onion, cabbage, whipping cream, sour cream, lemon juice and fresh dillweed.