Apple-Glazed Roast Turkey with Stuffing and Gravy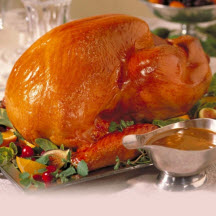 The classic autumn flavor of apple permeates the turkey inside and out — from the chopped apple, pecan and cornbread stuffing to the apple juice and jelly glaze.
Recipe Ingredients:
Stuffing:
12 ounces bacon slices, cut in 1/2-inch pieces
4 cups chopped onions
3 cups chopped celery
1 cup chopped dried apples
6 cups chopped pecans, toasted
1 1/2 teaspoons dried thyme
1 teaspoon dried sage
1 (16-ounce) package cornbread stuffing crumbs
2 1/2 cups low-sodium chicken broth
1/2 cup butter, melted
Non-stick cooking spray
Turkey:
1 cup apple jelly
1 cup apple juice
1/4 cup white balsamic vinegar
1/4 cup honey
1/2 teaspoon salt
1 (16 to 18-pound) Butterball® Fresh or Frozen Whole Turkey, thawed if frozen
Gravy:
1/4 cup all-purpose flour
2 (14.5-ounce) cans low-sodium chicken broth
Cooking Directions:
For Stuffing: Cook bacon in large skillet until crisp. Remove bacon and drain on paper towels. Reserve 2 tablespoons drippings in skillet. Set bacon aside. Add onion and celery to drippings. Cook on medium-high heat 15 to 20 minutes or until tender.
Combine bacon, onion mixture, apples, pecans, thyme and sage. Stir in stuffing crumbs. Stir in broth and butter. Remove 7 cups of stuffing for stuffing turkey. Spoon remaining stuffing into 1 1/2-quart baking dish sprayed with cooking spray. Bake in a preheated 350°F (175°C) oven for 30 minutes; uncover and bake 15 minutes.
For Turkey: Preheat oven to 325°F (160°C). Combine jelly, juice, vinegar, honey and salt in small, heavy saucepan. Bring to boil. Reduce heat and simmer until reduced to 1 1/4 cups, about 15 minutes, stirring occasionally. Reserve 1/4 cup mixture for gravy. Set remaining mixture aside for basting turkey.
Remove neck and giblets from body and neck cavities of turkey. Refrigerate for another use or discard. Drain juices from turkey. Pat dry with paper towels.
Fill neck cavity with part of the stuffing. Turn wings back to hold neck skin against back of turkey. Fill body cavity with remaining stuffing.
Place turkey, breast up, on flat roasting rack in shallow roasting pan. Spray turkey with cooking spray. Place small pieces of aluminum foil over skin of neck cavity and over stuffing at body cavity opening to prevent over browning during roasting.
Brush turkey with some glaze mixture. Loosely cover breast and tops of drumsticks with aluminum foil to prevent overcooking. Bake 2 hours.
Uncover turkey breast and brush turkey with additional glaze mixture. Return foil to top of turkey and continue roasting until meat thermometer inserted deep in thigh reaches 180°F (82.2°C). Let turkey stand 15 minutes before removing stuffing and carving.
For Gravy: Pour drippings into 1-quart measure; skim fat. Whisk in flour until smooth. Add reserved glaze mixture and enough water or broth to make 3 1/2 cups. Bring to boil; reduce heat. Simmer 3 to 5 minutes or until thickened, stirring occasionally.
Makes 14 servings.
Recipe and photograph courtesy of Butterball, LLC.