Curried Turkey with Jasmine Rice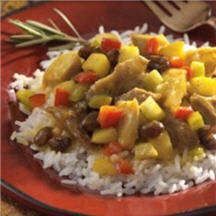 Leftover turkey with apples, raisins and vegetables in a fragrant curry sauce, served over jasmine rice.
Recipe Ingredients:
2 tablespoons pure vegetable oil
1 large (about 1 cup) onion, chopped
1/2 cup chopped celery
1/2 large (about 1/2 cup) red bell pepper, chopped
1 clove garlic, minced
2 tablespoons all-purpose flour
1 tablespoon curry powder
1/2 teaspoon salt
1/2 teaspoon ground turmeric
1/8 teaspoon ground cloves
1 (14.5-ounce) can chicken broth
3 cups chopped leftover cooked Butterball® Turkey
1 large (about 1 cup) Granny Smith apple, chopped
1/2 cup raisins
1 teaspoon grated lemon peel
1 tablespoon fresh lemon juice
1/8 teaspoon crushed red pepper
3 cups cooked jasmine rice
Shredded coconut (optional)
Cooking Directions:
Heat oil in large saucepan over medium heat. Add onions, celery, bell peppers and garlic.
Cook 8 minutes, or until vegetables are tender, stirring frequently.
Add flour, curry powder, salt, turmeric and cloves; cook and stir 1 minute. Gradually add chicken broth, stirring until well blended. Cook 5 minutes, or until thickened, stirring constantly.
Stir in turkey, apples, raisins, lemon peel, lemon juice and crushed red pepper. Cook 5 minutes, or until apples are crisp-tender and mixture is hot, stirring occasionally.
Serve over the rice. Top with coconut, if desired.
Makes 6 servings.
Tip: Substitute long-grain white rice for the jasmine rice.
Recipe and photograph provided courtesy of Butterball, LLC.