Holiday Turkey with Stuffing and Gravy 101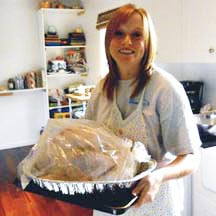 Preparing a turkey doesn't have to be complicated. This step-by-step recipe will easily help you put a perfectly roasted turkey, complete with stuffing and gravy, on your holiday table. The turkey browns beautifully in a roasting bag, which eliminates the need for basting, saving you both time and effort.
On a personal note, I originally wrote this recipe for the benefit of my own children—after they "flew the nest"—to help guide them through the preparation of their first big bird. One daughter still uses it...that's her in the photograph.
Recipe Ingredients:
The Stuffing:*
2 (6-ounce) packages stuffing mix, any style**
1 cup finely chopped onion
1 cup finely chopped celery
1/2 cup chopped nuts - optional
1/2 cup chopped dried fruits such as chopped dates, apricots, golden raisins, apricots, etc. - optional
1 cup melted butter
1 to 1 1/2 cups turkey or chicken broth, fruit juice or water

The Turkey:
1 (14-pound) turkey
1 tablespoon kosher or sea salt
1 teaspoon freshly ground pepper to taste
1/2 teaspoon garlic powder
1 large-sized oven roasting bag (for turkeys)
1 tablespoon all-purpose flour
2 stalks celery, washed, bottoms trimmed
1 medium onion, peeled and halved
2 carrots, pared and cut in half lengthwise
1/2 cup butter, melted

The Gravy:
Turkey or chicken broth, as needed
Butter or margarine, as needed
All-purpose flour, as needed
Cooking Directions:
For the Stuffing: Combine the stuffing mix with the onion, celery, nuts and fruits. Add the melted butter and toss to coat. Gradually stir in the chicken broth, blending lightly. The texture of the stuffing may be varied by using more liquid for moister stuffing, and less liquid for drier. Be careful not to add too much liquid or it will become heavy and soggy.
For the Turkey: Preheat oven to 350°F (175°C). (Or, if not using an oven bag, heat oven to 325°F | 160°C).
Remove the drumsticks from their plastic holder (if it came with one), reserving it to be used later. Remove giblets and neck from cavity of the turkey and discard or use as desired (see notes below). Rinse the turkey thoroughly inside and out, making sure to remove any feathers and quill tips left in the skin. Thoroughly pat dry, inside and out.
Combine the salt, pepper and garlic powder in a cup or small bowl and sprinkle the turkey inside and out.
Spoon about 6 to 7 cups prepared stuffing into the bird, being careful not to pack it in too tightly. The stuffing expands while it cooks, and will need room to do so. (Place any remaining stuffing in a greased baking dish; cover and refrigerate until ready to bake.) Skewer openings to enclose; tie drumsticks together with kitchen string or unwaxed floss (or place the drumsticks back into the plastic holder).
Place 1 tablespoon of flour into the oven bag and shake to thoroughly coat the inside of bag with flour. Allow excess flour to remain in bag. Place the bag into a large roasting pan. (If you use a disposable aluminum pan, be sure to use a large baking sheet for additional support.) Place the prepared vegetables in the bag to form a bed for the turkey to be placed on.
Place the stuffed turkey into the prepared roasting bag on top of the bed of vegetables. It will probably help to have an extra pair of hands here—call for assistance! Drizzle the melted butter over the top of the turkey, distributing evenly. Seal the oven bag with the specially provided bag-tie. Carefully make several slits in the top of the bag to vent and allow hot air to escape. Insert a meat thermometer (some birds come with a pop-up device that is not always accurate) through the bag into the meatiest part of the thigh area, being careful not to allow the thermometer to touch bone. (You may get a false reading if you do.)
Roast turkey until meat thermometer reads 180°F (85°C), about 2 1/2 to 3 hours for a 12 to 14-pound turkey. (Note: Reduce the cooking time by a 1/2 hour if turkey is not stuffed.) No basting is required using the roasting bag. When done, remove turkey from oven.
Place the reserved stuffing in the 350°F (175°C) oven and bake, covered, for about 30 minutes, removing the cover after 20 minutes to allow for a crispy, golden brown top.
With assistance (or with a turkey baster), carefully drain the juices into a very large measuring device or bowl. (Tip: The bed of cooked vegetables can be puréed and added to the gravy as a thickener and additional flavor, or save to use in a "leftover turkey" pot pie, noodle soup or casserole.)
Prepare the gravy while the turkey is allowed to stand for at least 15 minutes before carving. Spoon the stuffing into a serving bowl, cover and keep warm until ready to serve.
For the Gravy: Measure the reserved juices and add enough chicken broth to to make an even amount of liquid measured by cupful (the exact measurement will depend on the amount of juice strained). For each cup of liquid, you will need 1 tablespoon of butter and 1 1/2 tablespoons of all-purpose flour for medium-thick gravy (see note below for thinner gravy). For example, if you have 6 cups of broth, you will need 6 tablespoons butter and 9 tablespoons flour.
In a large saucepan, melt butter over medium heat; add flour and cook, stirring constantly, for 1 to 2 minutes (this mixture is called a roux).
Slowly pour the warm turkey juices and broth mixture into the flour mixture, stirring constantly. Bring to a boil, stirring often, and cook until thickened, about 3 minutes more or less. Taste, seasoning with salt and pepper as needed.
Makes 16 servings.
*Although my family prefers a basic, savory stuffing without all the bells and whistles (nuts, fruits, etc.), I have included such optional ingredients for those who prefer a variety of flavors and textures.
*I prefer using a combination of both cornbread and bread dressings for better taste and texture.
Tips:
To use the turkey giblets and neck meat, as well as make your own stock/broth, place the turkey giblets and neck in a large saucepan, add enough water to cover, bring to a boil and simmer, covered, for about 20 minutes or until done. Remove meat from neck bones, chop giblets and use in either the stuffing or in the gravy. Use the cooled broth in place of the chicken broth when preparing the stuffing.
For increased flavor, add 1 to 2 teaspoons turkey or chicken base (or bouillon granules) to stock or broth before using.
Basic ratio of ingredients for making gravy: For thin gravy use 1 tablespoon flour per 1 cup liquid; For medium gravy, use 1 1/2 tablespoons flour per 1 cup liquid; For thick gravy, use 2 tablespoons flour per 1 cup liquid.
Recipe and photograph by Hope Cantil; copyright © 1999; property of CooksRecipes.com. See Terms of Use.