Roast Turkey Sicilian Style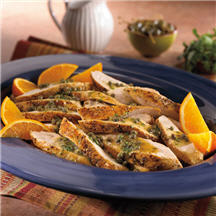 Turkey breast tenderloins roasted with slices of fresh orange and loads of garlic, served with a spicy sauce made with the pan drippings, capers and a pinch of red pepper flakes. Molto delizioso!
Recipe Ingredients:
6 oranges
8 cloves garlic
1 package (about 1 pound) Honeysuckle White® Turkey Breast Tenderloins
Salt and black pepper
1/2 cup low-sodium chicken broth
1 tablespoon rinsed capers
1 tablespoon chopped fresh parsley or 1 teaspoon parsley flakes
Pinch of red pepper flakes
Cooking Directions:
Preheat oven to 400°F (205°C).
With knife, remove peel, including all the white pith, from 3 of the oranges and cut them into 1/2-inch rounds.
Scatter orange rounds and garlic on the bottom of a roasting pan.
Season turkey with salt and pepper; place in pan on top of oranges.
Juice 2 oranges and pour juice over turkey.
Roast 35 to 40 minutes, basting occasionally with pan juices, until internal temperature reaches 170°F (80°C). (Make sure liquid in pan doesn't burn; add a little more orange juice or water if necessary.)
Remove turkey from pan; keep warm.
Set a strainer over a small saucepan; strain liquid and solids remaining in pan into saucepan, pressing on solids with the bowl of a spoon or ladle.
Add broth, capers, parsley and red pepper flakes; bring to a simmer and remove from heat.
Carve turkey into 1/2-inch-thick slices; arrange on platter or individual plates and spoon sauce over.
Cut remaining orange into wedges; garnish turkey with orange wedges.
Makes 4 servings.
Recipe and photograph provided courtesy of Honeysuckle White, a division of Cargill, Incorporated. Used with permission.