Roast Turkey with Mediterranean Rub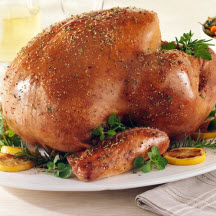 Treat family and friends to a delicious holiday bird seasoned with a Mediterranean-style citrus-herb rub.
The Butterball experts recommend the open pan roasting method using a flat rack in a shallow pan so that the turkey cooks evenly. If you don't have a flat rack, take a long piece of aluminum foil (heavy duty works best!) and roll it, then wrap into a circle and place underneath the turkey. The foil keeps the turkey off the bottom of the pan ensuring air flow for even cooking.
Recipe Ingredients:
1 (14 to 16 pounds) Butterball® Turkey
1 cup chopped fresh flat leaf parsley
1/4 cup ground dry lemon peel
4 teaspoons granulated sugar
4 teaspoons sea salt
4 teaspoons chopped fresh rosemary leaves
1 tablespoon dry oregano leaves
2 teaspoons ground black pepper
1/2 teaspoon crushed red pepper flakes
Cooking Directions:
Preheat oven to 325°F (160°C).
Remove neck and giblets from turkey. Pat turkey dry with paper towels. Turn wings back to hold neck skin against back of turkey. Place turkey breast side up on flat rack in shallow roasting pan.
Roast turkey approximately 1 1/2 hours. Then, cover breast loosely with Reynolds Wrap® Aluminum Foil to prevent overcooking.
While turkey is cooking, combine parsley, lemon peel, sugar, salt and spices to make rub. Set aside.
Roast turkey another 1 1/2 hours, or until meat thermometer reaches 180°F (approximately 85°C) when inserted into the deepest part of the thigh muscle.
Let turkey stand 15 minutes before carving.
Sprinkle rub on sliced Butterball Turkey or rub over entire turkey when it is removed from the oven.
Makes 14 to 16 servings.
Note: It is recommended to use the rub within 24 hours for best results.
Recipe and photograph provided courtesy of Butterball®; through ECES, Inc., Electronic Color Editorial Services.