Roast Turkey with Puerto Rican Flavors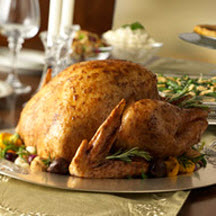 A Puerto Rican-style roast turkey with incredible flavor! An achiote seed-infused oil (achiote seeds are the slightly musky-flavored seed of the annatto tree) is combined with garlic, cumin, sea salt, pepper and fresh thyme, and rubbed over the entire turkey and marinated for 10 to 15 hours. The bird is then stuffed with a mixture of rum-plumped raisins and butter sautéed plantains and roasted.
Recipe Ingredients:
1 (14-pound) Honeysuckle White Whole Turkey
Achiote Oil:
1/4 cup olive oil
1 teaspoon achiote seeds
Spice Rub:
6 cloves garlic, minced
1 tablespoon ground cumin
2 tablespoons sea salt
2 teaspoons black pepper
1 teaspoon fresh thyme leaves
Ripe Plantain Stuffing:
1/2 cup raisins, golden
1/4 cup gold rum
1 cup butter
10 plantains, very ripe
1/2 cup water
1 teaspoon sugar
1 cinnamon stick
chile peppers (for garnish)
orange slices (for garnish)
Cooking Directions:
For Achiote Oil: Gently heat olive oil and add achiote seeds. Steep for 10 minutes and allow oil to turn a bright red/orange color. (Do not fry seeds or the oil will become bitter.) Strain.
For Spice Rub: Mix garlic with spices. Stir in achiote oil until it forms a paste.
For Turkey: Pat turkey dry with paper towels. Rub turkey with a thin layer of the spice rub. Cover and marinate turkey in the refrigerator for about 10 to15 hours.
For Ripe Plantain Stuffing: Plump raisins in the rum. Peel and cube the plantains. Melt butter in a skillet and sauté plantains. Add water, sugar and cinnamon stick. Cook until the plantains are soft, about 25 minutes. Add run and raisins and cook for 10 more minutes. Slightly mash plantains. Let cool. Loosely fill turkey cavity with the plantain stuffing.
To Roast: Fold turkey wings under the back of the turkey and return legs to the tucked position. Place turkey on rack, and set in large shallow roasting pan. Roast turkey in a 325°F (160°C) oven, basting occasionally with pan drippings. Roast for approximately 3 1/2 to 4 hours or until the internal temperature of the turkey reaches 180°F (approxiately 85°C) in the thigh and the stuffing reaches 165°F (approximately 75°C). Loosely tent the turkey with foil and allow turkey to rest for about 15 to 20 minutes prior to carving.
Place on a platter and garnish with chile peppers and orange slices.
Makes 14 servings.
Recipe provided courtesy of Honeysuckle White, a division of Cargill, Incorporated. Used with permission.