Roasted Turkey with Old Fashioned Bread Dressing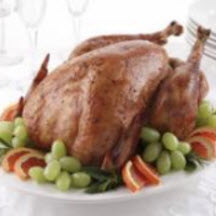 Make a new holiday tradition with this wonderful whole roasted turkey stuffed with an herbed bread dressing studded with walnuts and dried cherries.
Recipe Ingredients:
Turkey:
1 (12) pound whole turkey
1/2 teaspoon sea salt
1/4 teaspoon black pepper
1/4 teaspoon granulated garlic
Dressing:
1/4 cup unsalted butter
5 ounces onion, chopped
5 ounces celery, chopped
2 ounces walnuts, chopped
1 1/4 cup water
4 ounces sour cream
2 ounces dried cherries or cranberries
6 ounces dressing mix with herbs

Cooking Directions:
For Turkey: Remove giblets and neck from turkey. Rinse turkey with cold running water and drain well. Blot dry with paper towels.
Remove backbone and legs from turkey.
Sprinkle turkey with salt, pepper and garlic. Roast legs along with the breast in a shallow pan, on a rack in a preheated 350°F (175°C) oven for about 20 minutes per pound or until the internal temperature reaches 170°F (80°C) in the breast and 180°F (85°C) in the legs.
For Dressing: In a sauté pan, melt butter; add onion, celery and walnuts. Sauté until crispy tender.
Add water, sour cream, cherries and seasoning packet from dressing (if appropriate). Bring to a boil.
Stir in bread crumbs and mix until liquid is absorbed.
Place in a prepared baking dish and bake in a preheated 350°F (175°C) oven for 20 minutes or until internal temperature reaches 165°F (75°C).
Makes 12 servings.
Recipe and photograph provided courtesy of the National Turkey Federation.