Rosemary-Thyme Butter Basted Turkey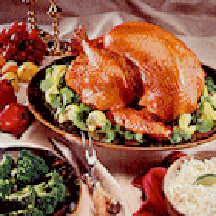 Fresh herbs and butter impart a combination of mellow and lively flavors throughout this deliciously easy whole roasted turkey.
Recipe Ingredients:
1 (12-pound) turkey
Salt and freshly ground black pepper to taste
1/2 cup butter, softened
1 1/2 tablespoons chopped fresh rosemary
1 1/2 tablespoons chopped fresh thyme
1 1/2 tablespoons chopped fresh flat-leaf parsley
Cooking Directions:
Remove giblet package and discard or use as desired. Rinse turkey inside and out and dry thoroughly.
Season turkey inside and out with salt and pepper, as desired.
In a bowl stir together softened butter, rosemary, thyme and parsley. Work the skin loose from a turkey and spread the herbed butter mixture underneath.
Roast according to the label directions, or at 400°F (205°C) for approximately 1 1/2 to 2 hours until tender and juices run clear. Baste with any remaining herbed butter during roasting.
Makes 12 servings.
Recipe and photograph provided courtesy of the National Turkey Federation.