Skillet Gratin of Smoked Turkey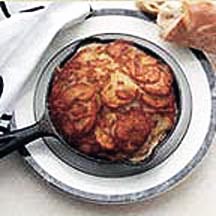 Serve this cheesy, turkey and potato skillet casserole in wedges with a crisp green salad and sliced tomatoes. Recipe by Chef Jim Sands.
Recipe Ingredients:
1 pound potatoes, cooked, skin on, cooled
6 tablespoons olive oil - divided use
2 teaspoon garlic, minced
2 tablespoons (3 large leaves) basil leaves, shredded
2/3 cup chicken stock
1/2 cup heavy cream
2 pounds smoked turkey, shredded
1 1/2 teaspoons salt - divided use
1 1/2 teaspoon ground black pepper - divided use
4 cups (8 ounces) leeks, trimmed, rinsed, slice
3 cups (12 ounces) Wisconsin Fontina cheese, shredded
Cooking Directions:
Peel potatoes and slice into thin round slices. Set aside.
Heat 2 tablespoons olive oil in cast iron skillet; add garlic and sauté 1 minute. Add basil and stock and cook until reduced to form syrupy glaze. Remove from heat, add turkey and season with half the salt and pepper. Reserve mixture in skillet.
In 10-inch, nonstick skillet, heat remaining 5 tablespoons olive oil over medium heat; add leeks and sauté until limp, about 2 minutes. Add reserved potato slices and press down into pan to form a cake. Season with remaining salt and pepper. Continue cooking undisturbed over medium to low heat several minutes or until well-browned on bottom.
To Serve: Sprinkle Fontina cheese evenly over turkey mixture in skillet. Flip the potato cake over and place on top of cheese and turkey. Bake gratin in cast iron skillet at 350°F (175°C) for 10 minutes or until heated through and cheese is melted.
To Serve: Cut into wedges and serve with crisp green salad and sliced tomatoes, if desired.
Makes 6 servings.
Recipe and photograph provided courtesy of Wisconsin Milk Marketing Board, Inc.