Turkey with Sausage-Pecan Stuffing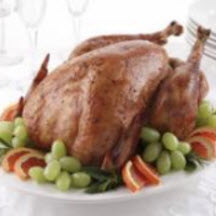 Grace your holiday table with the traditional whole roasted turkey, complete with a savory sausage and pecan stuffing studded with sweet golden raisins.
Recipe Ingredients:
Sausage-Pecan Stuffing:
2 medium onions, chopped
1 pound bulk pork sausage
2 (6-ounce) packages herb stuffing mix
1 (15-ounce) package golden raisins
1 cup pecan halves
6 celery ribs, chopped
1/4 teaspoon poultry seasoning
1/4 teaspoon garlic powder
1/4 teaspoon salt
1/4 teaspoon ground black pepper
2 1/2 cups chicken broth
Turkey:
1 (12 to 14 pound) turkey, cleaned inside and out, and dried thoroughly
2 medium onions, thickly sliced
Additional salt and pepper
Melted butter
Cooking Directions:
For Sausage-Pecan Stuffing: In a large skillet, brown sausage together with chopped onion. Drain drippings. Add herb packet from the stuffing mix. Stir in raisins, pecans, celery and the seasonings; simmer for 10 minutes.
Add stuffing mixes and broth; mix well. Cook and stir for about 5 minutes.
For Turkey: Season turkey inside and out with salt and pepper. Place sliced onions inside turkey. Add 6 to 7 cups stuffing. (Place remaining stuffing in a greased 1 1/2-quart baking dish; cover and refrigerate.) Skewer openings; tie drumsticks together. Place on a rack in roasting pan.
Bake, uncovered, at 325°F (160°C) for 4 to 4 1/2 hours or until a meat thermometer reads 180°F (approximately 85°C), basting often with the butter. When the turkey begins to brown, baste if needed and cover lightly with aluminum foil. Allow turkey to stand for 15 minutes before carving.
Meanwhile, bake reserved stuffing, covered, for 1 hour; uncover and bake 10 minutes more.
Makes 12 to 14 servings.
Recipe and photograph provided courtesy of the National Turkey Federation.