Turkey Dill Crêpes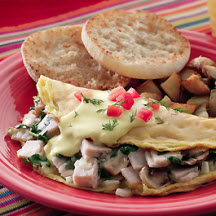 Recipe courtesy of the National Turkey Federation.
Recipe Ingredients:
4 large plain crêpes (see recipe for Crêpes)
4 large eggs - divided use
4 ounces (3/4 cup) smoked or regular cooked turkey, diced
2 ounces (1/4 cup) button mushrooms, cleaned and sliced
2 ounces (1/2 cup) fresh spinach leaves, stemmed and coarsely chopped
1 ounce (2 tablespoons) sweet onions, diced fine
4 ounces (1 cup) Monterey Jack cheese, shredded
Optional Accompaniments: Hollandaise sauce, diced tomatoes, fresh dill weed
Cooking Directions:
Prepare the crêpes one at a time as follows:
Butter a large omelet pan, add 1 beaten egg
Place in pan a crêpe, brown side up, dip in egg, flip.
Add 1/4 amount of the turkey, mushrooms, onions and spinach
Add 1/4 cup Monterey Jack cheese.
Place under the broiler to melt.
Fold in half, top with several tablespoons of Hollandaise and garnish with diced tomatoes and fresh dill sprigs.
Makes 4 servings.
Recipe and photograph courtesy of the National Turkey Federation.