Turkey Enchilada Stack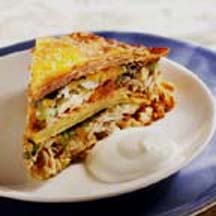 Leftover holiday turkey is transformed into a Mexican-inspired dish featuring layers of turkey, shredded cheese, warm tortillas and homemade enchilada sauce. Your family will gobble it up!
Recipe Ingredients:
1 teaspoon canola oil
1 medium onion, chopped (about 3/4 cup)
3 cloves garlic, chopped
1 1/2 to 2 tablespoons chili powder
2 1/2 to 3 teaspoons ground cumin
2 teaspoons granulated sugar
1 1/2 teaspoons MAGGI Instant Chicken Flavor Bouillon
1 (6-ounce) can tomato paste
1 cup water
2/3 cup (5 ounce can) NESTLÉ® CARNATION® Evaporated Milk
6 king size (7.5-inch) corn tortillas
3 cups shredded white meat turkey (or meat from 2 pound rotisserie chicken)
2 cups shredded light cheddar or Mexican-blend cheese - divided use
1 cup sliced green onions - divided use
1 (2.25-ounce) can sliced black olives, drained - divided use (optional)
4 tablespoons chopped fresh cilantro - divided use
Sour cream for accompaniment(optional)
Cooking Directions:
Preheat oven to 350°F (175°C).
Heat oil in large skillet over medium-high heat. Add onion and garlic; cook, stirring frequently, for 4 minutes or until tender. Stir in chili powder, cumin, sugar and bouillon; cook, stirring constantly, for 30 seconds. Stir in tomato paste, water and evaporated milk; cook for a few minutes to heat through. Pour through fine-mesh strainer; discard onion/garlic pieces.
Heat tortillas in microwave on HIGH (100%) power for 40 seconds or until very warm.
Spoon 2 tablespoons sauce over bottom of 9-inch-round deep-dish pie plate. Place 2 tortillas over sauce, covering entire bottom of pie plate. Top with 1 1/2 cups turkey, ¾ cup cheese, 1/2 cup green onions, half of the olives and 1 tablespoon cilantro. Top with about ½ cup sauce. Place 2 more tortillas over top. Sprinkle with remaining 1 1/2 cups turkey, ¾ cup cheese, remaining 1/2 cup green onions, remaining olives and 1 tablespoon cilantro. Top with about ½ cup sauce. Top with remaining 2 tortillas. Pour remaining sauce over tortillas. Sprinkle with remaining 1/2 cup cheese; cover loosely with foil.
Bake for 25 minutes or until heated through. Remove foil and bake an additional 5 minutes or until cheese is bubbly. Sprinkle with remaining 2 tablespoons cilantro before serving. Serve with a dollop of sour cream.
Makes 6 servings.
Tip: Like it mildly spicy? Stir 1 (4-ounce) can diced green chiles into sauce. For more heat add a diced jalapeño or two.
Nutritional Information Per Serving (1/6 of recipe): Calories: 460 Calories from Fat: 100 Total Fat: 11 g Saturated Fat: 4.5 g Cholesterol: 70 mg Sodium: 1970 mg Carbohydrates: 56 g Dietary Fiber: 10 g Sugars: 26 g Protein: 41 g.
Recipe and photograph the property of Nestlé® and Meals.com, used with permission.