Turkey with Chorizo Cornbread Stuffing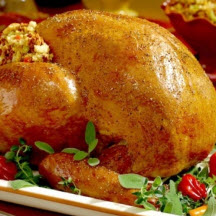 For a delicious change of pace away from tradition, try this Southwestern-style roast turkey with a flavorful spicy chorizo cornbread stuffing.
Recipe Ingredients:
Chorizo Cornbread Stuffing:
1 pound fresh chorizo sausage
1/4 cup unsalted butter
1 large onion, chopped (about 1 cup)
1 cup chopped celery
1/2 medium red bell pepper, finely chopped (about 1/2 cup)
1 medium jalapeño pepper, seeded and finely chopped
1 teaspoon dried sage leaves
1 teaspoon dried thyme leaves
1 (16-ounce) package cornbread stuffing crumbs
15 ounces turkey broth or low sodium chicken broth
Roast Turkey:
1/2 teaspoon garlic salt
1/2 teaspoon chili powder
1/4 teaspoon dried oregano leaves, crushed
1/4 teaspoon coarsely ground black pepper
1 (14-pound) whole turkey, thawed if frozen
2 to 3 tablespoons canola oil
Cooking Directions:
For Chorizo Cornbread Stuffing: Crumble chorizo into large non-stick skillet. Cook over medium heat 5 minutes, or until cooked through, stirring occasionally. Drain and discard drippings. Wipe skillet clean with paper towels to remove grease.
Melt butter in same skillet over medium heat. Add onion, celery, bell pepper and jalapeño pepper. Sauté about 7 minutes or until vegetables are tender. Stir in sage and thyme; set aside.
Place stuffing crumbs in large bowl. Add cooled chorizo and vegetable mixture; mix lightly. Stir in broth. Set aside.
For Roast Turkey: Mix garlic salt, chili powder, oregano and black pepper in small bowl; set aside.
Remove neck and giblets from body and neck cavities of turkey; refrigerate and reserve for gravy. Drain juices from turkey; pat turkey dry with paper towels.
Fill neck cavity with part of the stuffing. Turn wings back to hold neck skin against back of turkey. Fill body cavity with stuffing.
Place turkey, breast up, on flat roasting rack in shallow roasting pan. Rub turkey with oil and sprinkle with garlic salt seasoning mixture. Place small pieces of aluminum foil over skin of neck cavity and over stuffing at body cavity opening to prevent over browning during roasting.
Roast in a preheated 325°F (160°C) oven for 2 1/2 hours. Remove from oven and cover breast and tops of drumsticks with aluminum foil to prevent overcooking. Continue to roast for about 1 1/2 hours or until food thermometer reaches 165°F (75°C) when inserted in center of stuffing and reaches 180°F (85°C) when inserted in deepest part of thigh.
Meanwhile, place extra stuffing (if any remains) in a casserole dish; stir in 1/4-cup broth. Cover and refrigerate until ready to bake. Bake covered at 325°F (160°C) for 30 minutes, or until hot.
Allow turkey to rest for about 20 minutes before carving.
Makes 14 servings.
Recipe and photograph courtesy of Butterball, LLC.