Turkey with English Muffin and Rice Stuffing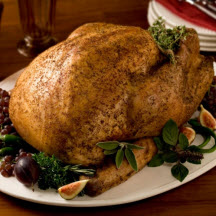 English muffins add great texture to the wild rice stuffing flavored with chopped onions, celery and poultry seasoning.
Recipe Ingredients:
10 English muffins, split and toasted, torn into small pieces
1 (6-ounce) package long grain and wild rice mix
1/2 cup (1 stick) butter
1 1/2 cups chopped onions
1 1/2 cups chopped celery
1 tablespoon poultry seasoning
1 (14.5-ounce) can chicken broth
1 (14-pound) Butterball® Whole Turkey, thawed if frozen
2 tablespoon vegetable oil
Cooking Directions:
Preheat oven to 325°F (160°C).
Cook rice according to package directions, omitting butter. Set aside.
Meanwhile, cook and stir onions and celery in butter in large skillet on medium heat 10 minutes or until crisp-tender. Stir in poultry seasoning. Remove from heat. Place in large bowl. Stir in muffin pieces, rice and broth.
Remove neck and giblets from body and neck cavities of turkey. Refrigerate for another use or discard. Drain juices from turkey. Pat dry with paper towels.
Fill neck cavity with part of the stuffing. Turn wings back to hold neck skin against back of turkey. Fill body cavity with remaining stuffing. Place turkey, breast up, on flat rack in shallow roasting pan. Brush with oil.
Bake 4 to 4 1/2 hours, or until meat thermometer reaches 165°F (73.8°C) when inserted in center of stuffing and 180°F (82.2°C) when inserted deep in thigh. Cover breast and top of drumsticks with aluminum foil after 2 1/2 hours to prevent overcooking of the breast. Let stand 15 minutes before removing stuffing and carving.
Makes 14 servings.
Recipe and photograph courtesy of Butterball, LLC.