Turkey with Molé Sauce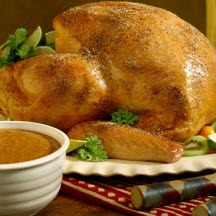 Flavorful and juicy baked turkey, seasoned with cilantro, lime and Mexican spices, served with a rich molé sauce.
Recipe Ingredients:
1 1/4 teaspoons salt - divided use
1/2 teaspoon garlic powder
1 teaspoon crushed dried oregano leaves - divided use
1/2 teaspoon ground red pepper
1/4 teaspoon coarsely ground black pepper
1 (14-pound) Butterball® Whole Turkey, thawed if frozen
1/2 cup packed fresh cilantro
4 limes, halved
Non-stick cooking spray
2 tablespoons vegetable oil
1 cup chopped onions
3 cloves garlic, minced
1/2 teaspoon ground ancho chile pepper
1/2 teaspoon ground cinnamon
1 (15-ounce) can tomato sauce
1 (4-ounce) can diced green chilies, drained
1/2 cup water
1 tablespoon brown sugar, packed
1 tablespoon creamy peanut butter
1/2 ounce unsweetened chocolate, cut into small pieces
Cooking Directions:
Preheat oven to 325°F (160°C).
Mix 1 teaspoon of the salt, garlic powder, 1/2 teaspoon of the oregano, red pepper and black pepper. Set aside.
Remove neck and giblets from body and neck cavities of turkey. Refrigerate for another use or discard.
Drain juices from turkey. Dry turkey with paper towels. Turn wings back to hold neck skin against back of turkey.
Place turkey, breast up, on flat roasting rack in shallow roasting pan. Place cilantro and limes in body cavity. Spray turkey evenly with cooking spray. Sprinkle with seasoning mixture.
Bake 3 to 3 1/2 hours, or until meat thermometer reaches 180°F (82.2°C) when inserted deep in thigh. Cover breast and top of drumsticks with aluminum foil after 2 hours to prevent overcooking of the breast.
Let turkey stand 15 minutes before carving. Remove and discard cilantro and limes.
Meanwhile make molé sauce, heat oil in large saucepan on medium heat. Add onions and garlic. Cook and stir 5 minutes, or until onions are tender. Stir in chili pepper, cinnamon, remaining 1/2 teaspoon oregano and ancho chili pepper. Cook and stir 1 minute.
Place in blender container. Add tomato sauce and green chilies; cover. Blend until smooth.
Pour back into same saucepan. Stir in water, remaining 1/4 teaspoon salt, brown sugar, peanut butter and chocolate. Bring to boil on medium-high heat, stirring frequently. Reduce heat to medium-low; simmer 10 minutes, stirring occasionally. Serve molé sauce over sliced turkey.
Makes 14 servings.
Recipe and photograph courtesy of Butterball, LLC.