Wine Country Roast Turkey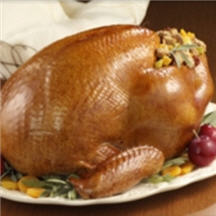 For a spectacular holiday entrée, try this whole roasted turkey basted with a buttery citrus and rosé wine glaze.
Recipe Ingredients:
Turkey:
1 (12 to 16-pound) whole turkey, fresh or thawed if frozen
2 stalks celery, cut in half
1 small to medium onion, cut in quarters
1/2 cup rosé wine
1/4 cup unsalted butter
Glaze:
1/4 cup unsalted butter
1/2 cup rosé wine
1/4 cup orange juice
1 tablespoon lemon juice
1 teaspoon seasoned salt
1/2 teaspoon ground paprika
1/4 teaspoon onion powder
Cooking Directions:
Preheat oven to 325°F (160°C).
For Turkey: Wash turkey in cool water and pat dry with clean paper towels. Place on a V-shaped rack in a shallow (2 to 3-inches deep) roasting pan.
Place celery, onion and 1/2 cup wine in body cavity. Sprinkle body cavity with salt and pepper.
Using twine, tie legs together over cavity. Tuck wings under or skewer against sides of bird. Brush bird with 1/4 cup melted butter.
Insert food thermometer in inner thigh.
Roast uncovered, breast side up, in the preheated 325°F (160°C) oven for 1 hour.
For Glaze: In a small bowl, combine remaining melted butter and wine with orange and lemon juices, seasoned salt, paprika and onion powder. Use to baste turkey frequently during remaining roasting time, about 2 to 3 hours.
Roasting time varies so be sure to use the food thermometer and roast until the internal temperature of the inner thigh reaches 180°F (85°C). If the turkey begins to brown too early, cover breast and top of drumsticks loosely with aluminum foil.
Allow turkey to stand for 15 to 20 minutes before carving.
Makes 12 to 16 servings.
Recipe and photograph provided courtesy of Honeysuckle White, a division of Cargill, Incorporated. Used with permission.