Mikey's Buffalo Wings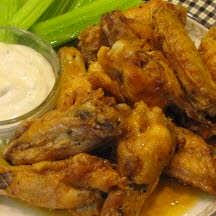 Mikey's version of spicy-hot buffalo wings, with accompanying 'cool-down' blue cheese dip and celery sticks, are always a hit at parties.
Recipe Ingredients:
6 tablespoons butter, melted
1/4 cup hot red pepper sauce (Tabasco)
18 chicken wings (about 3 pounds), disjointed with tips discarded
Kosher salt and freshly ground pepper to taste
Vegetable oil, for frying
Blue Cheese Dressing for accompaniment
Celery Sticks for accompaniment
Cooking Directions:
Combine melted butter and hot sauce in a large bowl; set aside.

Season wings with salt and pepper*.

In large frying pan or deep-fat fryer, heat 1-inch of oil to 360°F (180°C).
Fry wings in batches, without crowding, for about 10 to 15 minutes or until golden brown. Drain on paper towels; keep warm.
Once all the wing are fried, add them to the bowl with the melted butter and hot sauce mixture and gently toss to coat all pieces.

Serve wings warm with blue cheese dressing and celery sticks.
Makes 36 wings.
*Cook's Tip: For a crispier texture, toss the wings in cornstarch prior to frying.
Nutritional Information Per Serving (1 disjointed wing piece without the blue cheese dressing or celery): 25.1 calories; 86% calories from fat; 2.5g total fat; 7.0mg cholesterol; 37.2mg sodium; 7.1mg potassium; 0.3g carbohydrates; 0.0g fiber; 0.0g sugar; 0.3g net carbs; 0.5g protein.
Photograph by Hope Cantil, copyright © 1999; recipe property of CooksRecipes.com. See Terms of Use.