Silver Dollar Egg Sandwiches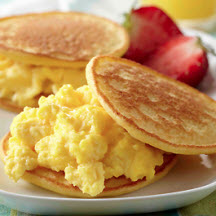 These tasty mini breakfast sandwiches are great way to add protein and choline to your family's diet.
Recipe Ingredients:
4 large eggs
1/4 cup milk
1/4 teaspoon salt
Dash pepper
2 teaspoons butter
16 silver dollar-size Protein Packed Pancakes, warm
Maple syrup for dipping (optional)
Cooking Directions:
Beat eggs, milk, salt and pepper in medium bowl until blended.
Heat butter in large nonstick skillet over medium heat until hot. Pour in egg mixture. As eggs begin to set, gently pull the eggs across the pan with an inverted turner, forming large soft curds. Continue cooking – pulling, lifting and folding eggs – until thickened and no visible liquid egg remains. Do not stir constantly.
Spoon eggs onto 8 pancakes, dividing evenly. Cover with remaining pancakes; serve with maple syrup for dipping, if desired.
Makes 4 servings or 8 mini pancake sandwiches.
Nutritional Information Per Serving (1/4 of recipe): calories: 197; total fat: 13g; saturated fat: 6g; polyunsaturated fat: 2g; monounsaturated fat: 4g; cholesterol: 297mg; sodium: 405mg; carbohydrates: 6g; dietary fiber: g; protein: 13g; vitamin A: 631.6IU; vitamin D: 73.1IU; folate: 48.4mcg; calcium: 139.8mg; iron: 1.7mg; choline: 195.6mg.
Recipe and photograph provided courtesy of the American Egg Board (AEB) and Egg Nutrition Center (ENC).