Best Beef Tacos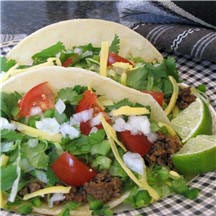 The secret for the tasty meat filling in these tacos is that it is made with both ground beef and canned roast beef. No one can eat just one...or even just two! They're just that good!
Serve the tacos family-style by setting the dining table with bowls filled with the seasoned beef, taco shells and desired toppings and let each person make their own taco. This is a "hands-on" food, so be sure to supply plenty of napkins!
Recipe Ingredients:
Beef Filling:
1 1/2 teaspoons chili powder
1 teaspoon kosher or sea salt
1/4 teaspoon dried oregano leaves
1/4 teaspoon cumin powder
1/2 teaspoon garlic granules or powder
1/2 teaspoon onion powder
1/4 teaspoon freshly ground pepper
1 pound lean ground beef
1 (12-ounce) can parboiled roast beef*

Taco Shells:
1 dozen (or more) fresh corn tortillas
Canola oil for frying

Suggested Condiment Toppings:
Cheddar cheese, shredded
Iceberg or romaine lettuce, cut into thin shreds
Tomatoes, chopped
White or red onion, chopped **
Ripe olives, sliced or chopped
Fresh jalapeños, seeded and chopped
Pico de Gallo and/or a variety of bottled hot sauces
Fresh cilantro leaves, chopped (no stems, please!)
Sour cream
Lime wedges
Cooking Directions:
For Seasoned Beef Filling: In a small bowl combine the chili powder, salt, oregano leaves, cumin powder, garlic granules, onion powder and pepper; set aside.
In large skillet, over medium-high heat, cook and crumble the ground beef until nicely browned. Drain off excess fat, if needed.
Add the spice mix to the ground beef and cook, stirring constantly, for a few seconds.
Add the canned beef, breaking it up with the ground beef. Cover skillet and keep warm until ready to serve. It's now time to prepare the taco shells.
For Tortilla Shells: Add about 1/4-inch oil in a large, heavy skillet. Heat to medium-high; using tongs dip a tortilla into hot oil, turn once and fold in half; fry on both sides to desired crispness.
Drain upside down (tent-like) on a brown paper bag lined with paper towels. Add more oil to skillet as necessary. Experience helps make this process quick and easy. (I use a skillet that is large enough to fry 3 to 4 shells at a time without crowding.)
To Make a Taco: Fill a fried taco shell with 2 to 3 tablespoons of seasoned beef filling and desired toppings in no particular order (building a taco is based on personal preference), then squeeze some lime juice over the top and enjoy!
Makes 12 servings. (Increase recipe as needed.)
*Use the parboiled roasted beef chunk-style variety, not sliced. The addition of this one ingredient enhances the flavor and would be greatly missed if not used.
**For the best taste when using raw onions in a recipe or as a condiment, first soak the onion in ice water after you have chopped or sliced it for several minutes. Drain well before using/serving. This removes the unpleasant taste out of the onion, leaving it sweet tasting and crisp. Even the pickiest eater will like raw onions prepared this way.
Nutritional Information Per Serving (1/12 of recipe; does not include condiment toppings): 205.2 calories; 63% calories from fat; 14.3g total fat; 52.4mg cholesterol; 200.2mg sodium; 194.9mg potassium; 1.4g carbohydrates; 0.3g fiber; 0.1g sugar; 1.1g net carbs; 16.8g protein.
Recipe and photograph by Hope Cantil; Copyright © 1999; property of CooksRecipes.com. See Terms of Use.