Creole Baked Ham with Cane Syrup Sauce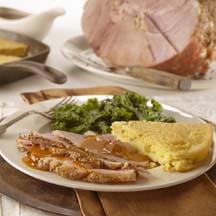 This dish is reflective of Chef Randy Evans' signature cuisine at his restaurant in Houston. It combines the tradition of the holidays with a Creole twist sure to tempt your guests' taste buds this season. Serve with Roasted Garlic Potatoes, Warm Green Beans Vinaigrette and Corn Country Squares.
Recipe Ingredients:
Cane Syrup Sauce:
1 cup Steen's sugarcane syrup, or maple syrup
1/2 cup yellow mustard
1/2 cup Steen's sugarcane vinegar, or apple cider vinegar
1/4 cup Worcestershire Sauce
1/4 cup Louisiana hot sauce*
1 1/2 cups dry white wine
Ham:
1 bone-in whole ham, about 14 pounds (or 2 bone-in half hams, about 9 pound each)
1 (3-ounce) package Zatarain's crab boil in a bag
1/2 cup granulated sugar, plus 1 tablespoon
3 tablespoons kosher salt
Cooking Directions:
For Cane Syrup Sauce: Heat a saucepan over medium heat; stir in the syrup, mustard, vinegar, Worcestershire sauce, hot sauce and salt. Bring to a boil over high heat; reduce and cook over medium heat for 5 minutes.
Set aside 1 3/4 cups of the sauce for serving and combine remaining 1/4 cup sauce with the white wine.
For Ham: Preheat the oven to 350°F (175°C). Line a shallow roasting pan with foil.
In a plastic baggie, combine the spices, sugar and salt and crush with a rolling pin or mallet. Or, grind mixture in a spice grinder or food processor. Set aside half of the spice mixture for the second ham, if needed.
Score a diamond pattern about 1/8-inch thick into the upper surface of the ham. On a clean work surface, press ground spice mixture firmly into ham.
Transfer ham into the foil lined shallow roasting pan. Baste with the white wine mixture every 30 minutes and cook 2 additional hours. (about 1/3 to 1/2 cup sauce each time). After 4 hours, an instant-read thermometer inserted in the thickest portion (not touching bone) should read 140°F (60°C). If outer crust begins to darken, tent ham with a sheet of foil.
Transfer ham to platter. Let stand 15 minutes; slice and serve with the reserved 2 cups of Cane Syrup Sauce (use 1 cup per ham, if serving 2 hams) and your favorite side. I love mine with jalapeño cornbread custard and creamed mustard greens.
Makes 22 to 24 servings.
*Make sure to use Louisiana hot sauce, NOT Tabasco hot sauce. There is a big difference in taste!
Recipe developed by Chef Randy Evans of Brennan's Restaurant, Houston, Texas.
Recipe and photograph provided courtesy of Pork, Be Inspired.