Cuban Pork and Plantains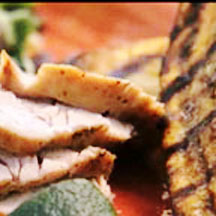 Serve the flavors of Havana in your backyard with this recipe for Cuban pork and plantains.
Recipe Ingredients:
2 garlic cloves, minced
2 tablespoons olive oil
2 whole pork tenderloins, trimmed
3 ripe plantains, peeled and cut lengthwise
Salt and pepper to taste
Cooking Directions:
Start by trimming any sliver skin off the tenderloins and if the loin has a thinner tail tie, for even cooking.
To a small bowl add olive oil, garlic, and salt and pepper.
Brush on the tenderloins.
Preheat grill to medium heat.
Place tenderloins on grill for about 18 to 20 minutes.
Brush plantains with olive oil and season with salt and pepper, then grill for about 7 to 8 minutes.
Transfer tenderloins and plantains to a platter and serve.
Makes 4 servings.
View the recipe for Black Bean Salsa for accompaniment.
Recipe provided courtesy of HolidayKitchen.tv. Photograph property of CooksRecipes.com.