Orange Country-Style Ribs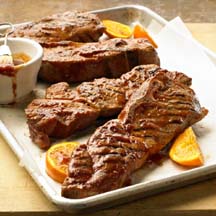 Tender and tangy, these country-style ribs are meaty enough to eat with a fork and knife. Serve with Coleslaw with Toasted Almonds, Hush Puppies and Good & Easy Baked Beans.
Recipe Ingredients:
2 pounds pork country-style ribs
1 (6-ounce) can tomato paste
1/2 cup brown sugar, packed
1/4 cup frozen orange juice concentrate, thawed
2 tablespoons red wine vinegar
1 tablespoon prepared mustard
1 tablespoon Worcestershire sauce
1/2 teaspoon freshly ground black pepper
Cooking Directions:
Cut ribs into 1-rib portions. For sauce, combine remaining ingredients; mix well.
Place a large piece of foil over coals beneath grill to catch drippings. Place ribs on grill, about 6 inches above slow coals. Close hood of grill and cook about 20 minutes; turn ribs and cook, covered, 20 minutes more.
Brush ribs with sauce and cook, covered, 25 to 35 minutes more or till done, turning and brushing frequently with sauce.
Makes 4 servings.
Recipe and photograph provided courtesy of National Pork Board.