Pork Medallions and Lemon-Pecan Spinach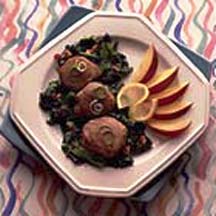 Complete this meal with fruit salad and Roasted Garlic Potatoes.
Recipe Ingredients:
1 pound pork tenderloin, cut into 8 crosswise pieces
1/4 teaspoon salt
1/4 teaspoon coarsely ground pepper
1 tablespoon butter
2 tablespoon lemon juice
1/8 teaspoon hot pepper sauce
2 tablespoons finely chopped pecans
1 tablespoon finely chopped parsley
2 green onions, finely chopped
1 (10-ounce) package frozen chopped spinach, thawed and drained
Lemon slices (optional)
Fresh parsley sprigs (optional)
Cooking Directions:
Press each pork tenderloin slice to 1-inch thickness. Sprinkle both sides of each slice with salt and pepper.
Heat butter in large heavy skillet over medium-high heat. Add pork slices; cook 3 to 4 minutes on each side. Remove pork slices, reserving drippings. Keep warm.
Stir lemon juice and hot pepper sauce into reserved drippings in skillet. Stir in pecans, parsley, green onions and spinach; cook over low heat until spinach mixture is hot.
Place spinach mixture on serving plate; arrange pork slices on top. Garnish with lemon slices and parsley sprigs, if desired.
Makes 4 servings.
Recipe and photograph provided courtesy of National Pork Board.