Stuffed Pork Chops with Beer-Glazed Onions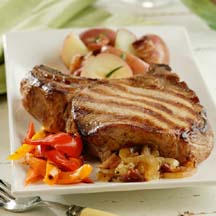 A simple, but flavorful stuffing is a great way to keep chops ultra moist and flavorful while grilling. This stuffing delivers an intense trio of tastes by combining sautéed bacon, fontina cheese and meltingly tender beer-glazed onions. Serve with Chilled Mushroom Salad and seasonal fruit.
Recipe Ingredients:
4 bone-in rib pork chops, (1 1/2-inches thick)*
4 slices hickory smoked bacon, or peppered bacon
4 ounces fontina cheese, or white cheddar cheese, grated (1 cup)
Kosher or sea salt, to taste
Freshly ground black pepper, to taste
Beer-Glazed Onions:
1 medium onion, peeled and chopped (about 1 cup)
1 tablespoon oil
1 tablespoon brown sugar, packed
1/3 cup beer**
Cooking Directions:
For Beer-Glazed Onions: In medium skillet, cook and stir onion in oil until onion is translucent, about 7 minutes. Stir in brown sugar; cook for 2 minutes to caramelize. Stir in beer; simmer for 5 minutes or until there is no liquid. Remove from heat; cool slightly.
Cook bacon in skillet or on griddle over medium high heat until crispy. Drain bacon on paper towels; crumble and add to onion mixture. Stir cheese into onion mixture; set aside.
Prepare pork chops for stuffing by inserting sharp paring or boning knife through side of each chop until tip touches bone. Carefully cut opening to width of about 1 inch. Swing knife tip through chop to create pocket, being careful not to widen opening. Turn knife and swing blade in opposite direction to make finished pocket as large as possible.
Divide onion mixture among 4 chops (about 1/4 cup stuffing for each).Carefully stuff the mixture into the center of each chop. Season both sides of chops with salt and pepper.
Preheat grill to 400°F to 450°F (205°C to 230°C).
Spray chops lightly with cooking spray; place on hot grill. Cover; cook for 8 minutes per side or until internal temperature reaches 160°F (70°C) using an instant-read thermometer.
Remove from grill; cover with foil and let rest for 5 minutes before serving.
Makes 4 servings.
*The unbroken eye of meat in a bone-in rib chop makes it an ideal chop for stuffing. The rib bone also acts as a helpful guide when cutting the pocket into the chop.
**Substitute white wine, if desired.
Nutritional Information Per Serving (1/4 of recipe): Calories: 478 calories; Protein: 44 grams; Fat: 30 grams; Sodium: 638 milligrams; Cholesterol: 129 milligrams; Saturated Fat: 12 grams; Carbohydrates: 9 grams; Fiber: 1 gram.
Recipe and photograph provided courtesy of National Pork Board.