Red Robin's Burning Love Gourmet Burger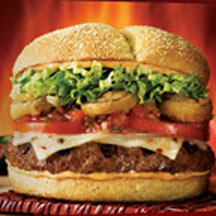 With this recipe you can make your own version of Red Robin's Burnin' Love gourmet burger at home.
Recipe Ingredients:
Chipotle Mayonnaise:
High-quality mayonnaise
Canned chipotle peppers
Salsa (see Pico de Gallo)
The Burger:
4 jalapeño Kaiser cornmeal rolls
1 1/3 pounds ground beef, 80 percent lean or above, made into 4 patties
Cayenne seasoning
Salt and ground black pepper to taste
Iceberg lettuce, shredded
8 slices pepper- jack cheese
1 to 2 vine ripened tomatoes, sliced
Jalapeño rings, fresh or battered and fried
Cooking Directions:
For Chipotle Mayonnaise - Mix mayonnaise with desired amount of pureed chipotle peppers, salt and pepper to taste. Refrigerate for about an hour to enhance the flavor prior to using.
For Salsa - Enhance your favorite store-bought salsa with fresh finely chopped tomatoes, red onion, cilantro, Serrano peppers and jalapeños. Or make your homemade salsa from scratch using all fresh ingredients.
For Burgers - Season the hamburger patties with cayenne, salt and pepper to taste prior to grilling. Oil the grill grates and preheat the grill before putting the burgers on it. Grill the patties to a minimum internal temperature of 160°F (70°C) for a minimum of 15 seconds to maximize flavor and juiciness. Remove burgers from grill and top with 2 pepper-jack cheese slices per burger. Grill for an additional two minutes to melt the cheese. Toast the bun on the grill to a golden brown. Spread chipotle mayonnaise on both sides of the toasted bun. Place the burger on the bun and top with sliced tomato, salsa, jalapeños and shredded lettuce. Cover with the bun top and enjoy.
Makes 4 servings.
Recipe and photograph provided courtesy of the national restaurant chain, Red Robin Gourmet Burgers; through ARA Content.