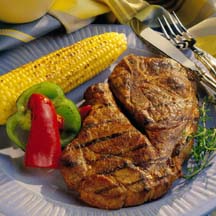 Grilled Honey-Soy Pork Steaks - You'll love the simple marinade for these pork steaks. In fact, you probably have the ingredients on hand. You can substitute any type of pork chop for the blade steaks in this recipe to suit whatever you have on hand. Serve with grilled corn on the cob and fresh fruit kabobs.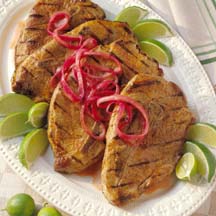 Grilled Yucatacan Pork Steaks - This classic grilled pork dish from the Yucatan—Poc Chuc—is simplicity personified, but it's loaded with flavor. Accompany with guacamole, warm corn tortillas and a corn and black bean salad in vinaigrette.
Barbecued Pork Steaks - Your family will love the sweet barbecue flavor of these pork steaks. If you do not have pork steaks on hand, substitute your favorite pork chops instead. Serve chops with baked potatoes and mixed salad greens.