Pork Roast Carnitas-Style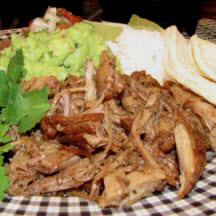 Pork roast is browned, seasoned and braised slowly in a savory citrus-soy broth until it practically falls apart, resulting in a rich, caramelized flavor. Serve this Mexican-inspired pulled pork with warm fresh corn or flour tortillas, chopped onion, diced jalapeños, fresh cilantro leaves, beans and rice, Pico de Gallo Salsa, Guacamole and fresh pineapple spears for a feast worthy of a fiesta.
Recipe Ingredients:
For Roast:
1 tablespoon granulated beef bouillon, or beef base*
1 tablespoon dried cilantro leaves
2 teaspoons brown sugar, packed
1 teaspoon garlic powder
1 teaspoon onion powder
1 teaspoon dried oregano leaves
Freshly ground black pepper, to taste
1 (4 to 5-pound) pork loin roast, boneless
1/2 cup water
Juice of 1 fresh orange
Juice of 1 fresh lime
2 tablespoons soy sauce
Accompaniments and Toppings:
Fresh corn or flour tortillas, warmed
Chopped white or red onion, chopped **
Diced jalapeños, seeded***
Fresh cilantro leaves, chopped or not
Lime wedges
Pico de Gallo Salsa
Guacamole
Cooking Directions:
In a small bowl combine the granulated beef bouillon (see note for using paste-style beef base), dried cilantro leaves, brown sugar, garlic powder, onion powder, oregano and cilantro leaves, salt and pepper. Set aside.
Brown pork roast on all sides in large cooking pot over medium heat.
Remove from heat and evenly coat the roast on all sides with spice mixture.
Add the water, orange juice, lime juice and soy sauce. Return to heat and bring liquid to boiling; reduce heat; cover and simmer over low heat for 3 1/2 to 4 hours or until roast is so tender, it easily pulls apart. Toward the end of the cooking time, when the roast is tender enough, separate it into smaller chunks so there is more surface area for the meat to absorb the flavors in the cooking liquid.
When roast is done, discard any undesirable fatty bits and then pull roast apart with two forks. Gently stir the pulled pork to coat the pieces with any remaining cooking liquid in the pan and serve.
Makes 16 servings.
Oven Method: Preheat oven to 275°F (135°C). In a heavy, ovenproof pot (with lid), prepare the pork roast as instructed for stovetop braising, except after adding the liquids, place the lid on the pot and braise in the oven for 2 1/2 to 3 hours, turning roast over after 1 hour, or until done when meat easily pulls apart.
*Or, if using a paste-style soup base, add it to the water/citrus mixture, stirring to dissolve.
**When using raw onions in a recipe or as a condiment, always soak the onion in ice water after you have chopped or sliced for at least several minutes. Drain thoroughly just before using. This removes the unpleasant taste out of the onion, leaving it sweet tasting and crisp. Even the pickiest eater will like raw onions prepared this way.
***Removing the seeds and inner membrane of the peppers before dicing will measurably reduce their fiery heat. But do leave them in if "the hotter the better" is your preference.
Nutritional Information Per Serving (1/16 of recipe; does not include accompaniments and toppings): Calories 164.81; Fat 6.18g; Sodium 136.89mg; Potassium 440.45mg; Fiber 0.42g; Sugar 1.5g; Protein 23.59g.
Recipe and photograph by Hope Cantil; Copyright © 1999; property of CooksRecipes.com. See Terms of Use.