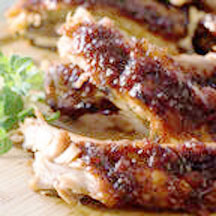 Welcome to CooksRecipes, online as a free cooking and recipe resource since 1999.
CooksRecipes over 23,000 kitchen-tested recipes for every meal course and occasion. Find inspiring ideas to help in planning weekday meals, holiday parties, special event dinners and more at CooksRecipes.com. (Tip: Check out our Family Favorite Recipes Collection...the name says it all!)

Cherry Cola Ribs - Wow your family and guests with this finger-licking-good recipe for baby back ribs.