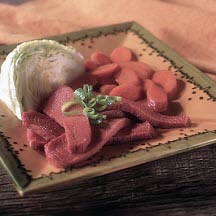 Welcome to CooksRecipes, online as a free cooking and recipe resource since 1999.
CooksRecipes over 23,000 kitchen-tested recipes for every meal course and occasion. Find inspiring ideas to help in planning weekday meals, holiday parties, special event dinners and more at CooksRecipes.com. (Check out our Family Favorite Recipes Collection, the name says it all!)

Luck of the Irish Corned Beef Brisket - No other main dish says St. Patrick's Day like the traditional meal of corned beef and cabbage to add the perfect bit 'o Irish to your meal.