Welcome to CooksRecipes.com, proudly celebrating 20 years online as a free recipe resource since 1999.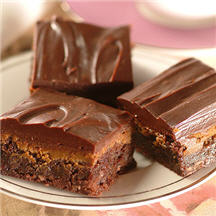 Beef Ranch Zucchini Gnocchi - This Italian-style beef steak meal-in-a-skillet is an ideal choice when you want to impress your dinner guests with great tasting food that requires minimal effort. The "ranch" in this recipe refers to the type of steak that's cut from the center of the beef shoulder.
Find more Beef Skillet Recipes.
Cappuccino Brownies - These sophisticated coffee-flavored brownies, with a layer of cream cheese and a chocolate ganache topping, are the perfect addition to any dessert tray. Recipe is from the kitchen of Dena Rae Gerardi of Helendale, California.
Find more Coffee-Flavored Bar Recipes.