Welcome to CooksRecipes.com, proudly celebrating 20 years online as a free recipe resource since 1999.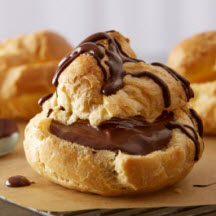 Kansas City Style Pork Back Ribs - This recipe, featuring a dry rub spice mixture for pork ribs, was developed by Chef Paul Kirk, author of Paul Kirk's Barbecue Sauces Cookbook.
Find more Pork Rib Recipes.
Double Chocolate Cream Puffs - Really yummy chocolaty cream puffs filled with chocolate whipped cream and topped with chocolate fudge sauce.
Find more Chocolate Dessert Recipes.