Star of David Chocolate Cookies - These special chocolate cookies are sure to become a holiday favorite! Add a few drops of food coloring to the frosting for a festive touch.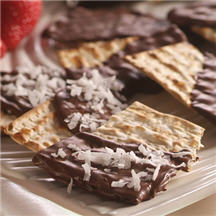 Chocolate-Dipped Matzos - This recipe will satisfy any sweet tooth - not only during Passover, but any time of the year. They're sure to become a favorite!
Orange Almond Honey Cake - A delicious, honey-sweetened almond cake to celebrate the holiday of Rosh Hashana, symbolically eaten with hopes of a "sweet new year".